The voyage of the rug
Weaving
The production processes of carpets with unique patterns, which are produced with natural materials and completely traditional methods, are followed constantly. Weaving a carpet on a loom is a delicate process. It requires attention and effort. Considering the locations of the villages in this geography, following the process on-site is at least as difficult as weaving a carpet. We are proud to succeed. We always invite our customers to our workshops and Malatya center to experience our all processes, and we are happy to share our expertise and production.

Figure: A. Single warp knot, B. Symmetrical knot, C. Symmetrical knot on depressed warp inclining to left, D. Symmetrical knot on a depressed warp inclining to right

Figure: E. Asymmetrical knot open to the left, F. Asymmetrical knot open to the right, G. Asymmetrical knot open to the left on depressed warp, H. Asymmetrical knot open to the right on depressed warp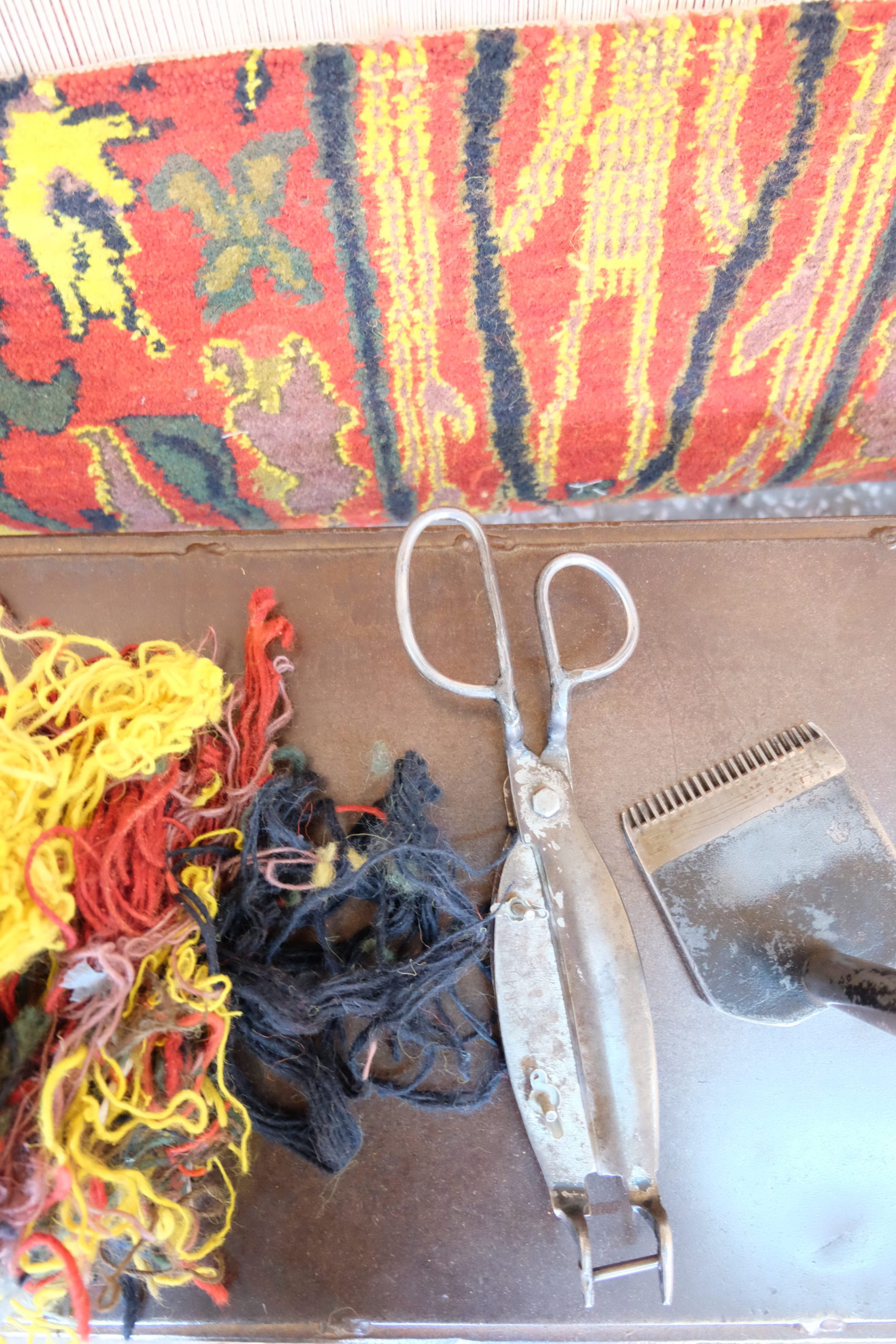 Photo: Tools for weaving rug, 2019 Gerger
The Weaving Process
Weaving Technique
We produce hand-woven carpets on carpet looms using completely traditional methods. We maintain the weaving craft that has been going on for centuries in the region and fulfills our social responsibility. Our people continue to keep our culture alive in the oldest settlements of Anatolia. This is a great feeling.
We pay special attention to each hand-spun weft, warp, yarn, and knot technique. Our materials are all specially selected and gathered together to create unique carpets. We are constantly researching the weaving of antique carpets, combining the weaving techniques of each region with the books of academic researchers and experts, our antique carpet collection, and long years of experience, and we are working to weave the most appropriate one today.
We are particularly interested in the yarns we use in both warp and weft, whether the yarn is thick and thin, soft and hard, untwisted and twisted. Also, for some carpets, we use 2 or 3 wefts. Nowadays, many companies are installing the wefts on the loom without spinning the wefts, we spin the wefts on the loom and this is a very difficult process that takes 2 days. After this process, it is very difficult for us to stretch the carpet, but this is a very necessary and traditional technique for the durability of the carpet. When the weft is not pinned, the carpet wears out over the years, becomes short-lived, and is damaged during washing. This is something we don't want.
Our difference in weaving is that we cut each knot individually with special scissors, and as a result, our carpets have a unique texture. Indian manufacturers create a smooth texture by shaving the entire carpet after weaving it, this is not traditional carpet weaving. individually sheared knots increase our working time for us.
As the knots are tightened with a comb, high pressure and tension occurs in the weft. When 100% wool is used, the wefts break due to this tension to eliminate this breaks 5 to 10 percent polyester are used in threads even most producers claims %100 wool, there are minor polyester exist in their wefts. Thanks to our expertise and specially produced weft threads, we can obtain a very strong weft thread with 100% wool.
The Weaving Process
Weaving Equipments
As a result of our past cooperation with 'Zeytuni', a high-quality loom producer, we have had a sufficient stock of looms for about 30 years. We can produce carpets with a maximum width of 8 meters and many manufacturers cannot produce carpets with this width. Loom breaks are among the general problems in carpets with large widths and lengths. Our looms are durable and sturdy.
We are using ergonomic equipment for our weavers and their equipment is continuously checked by supervisors to keep the work safety first and quality of the carpets.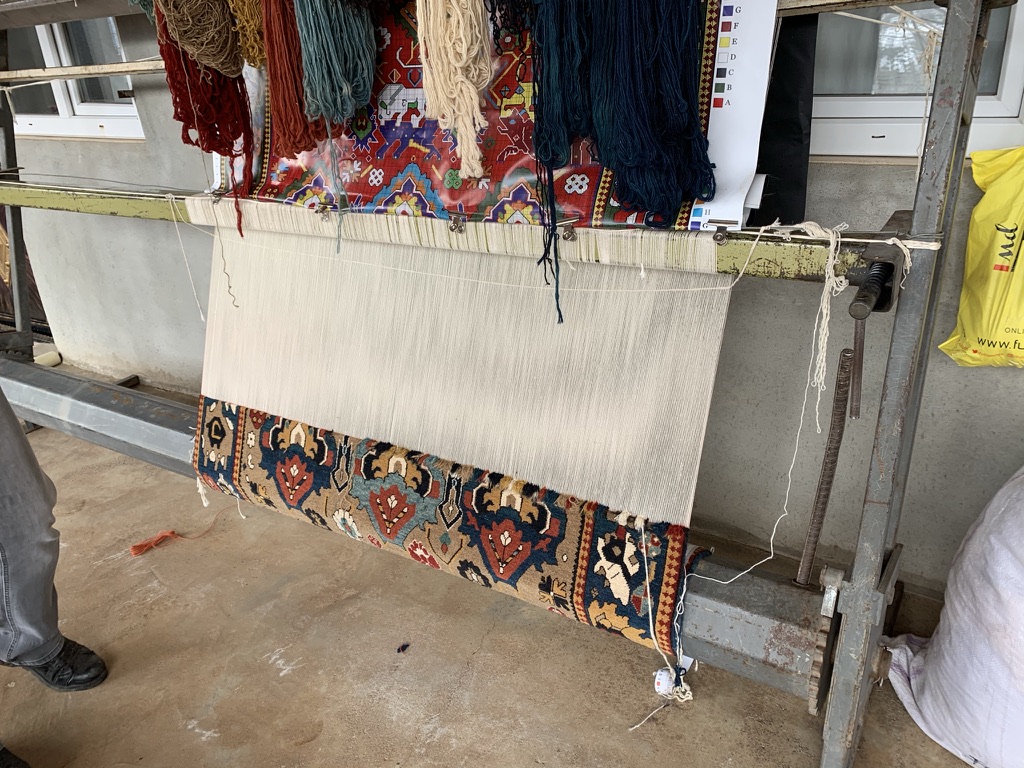 Photo: An Example of Loom, Weaving Kurdish rug, 2019 Gerger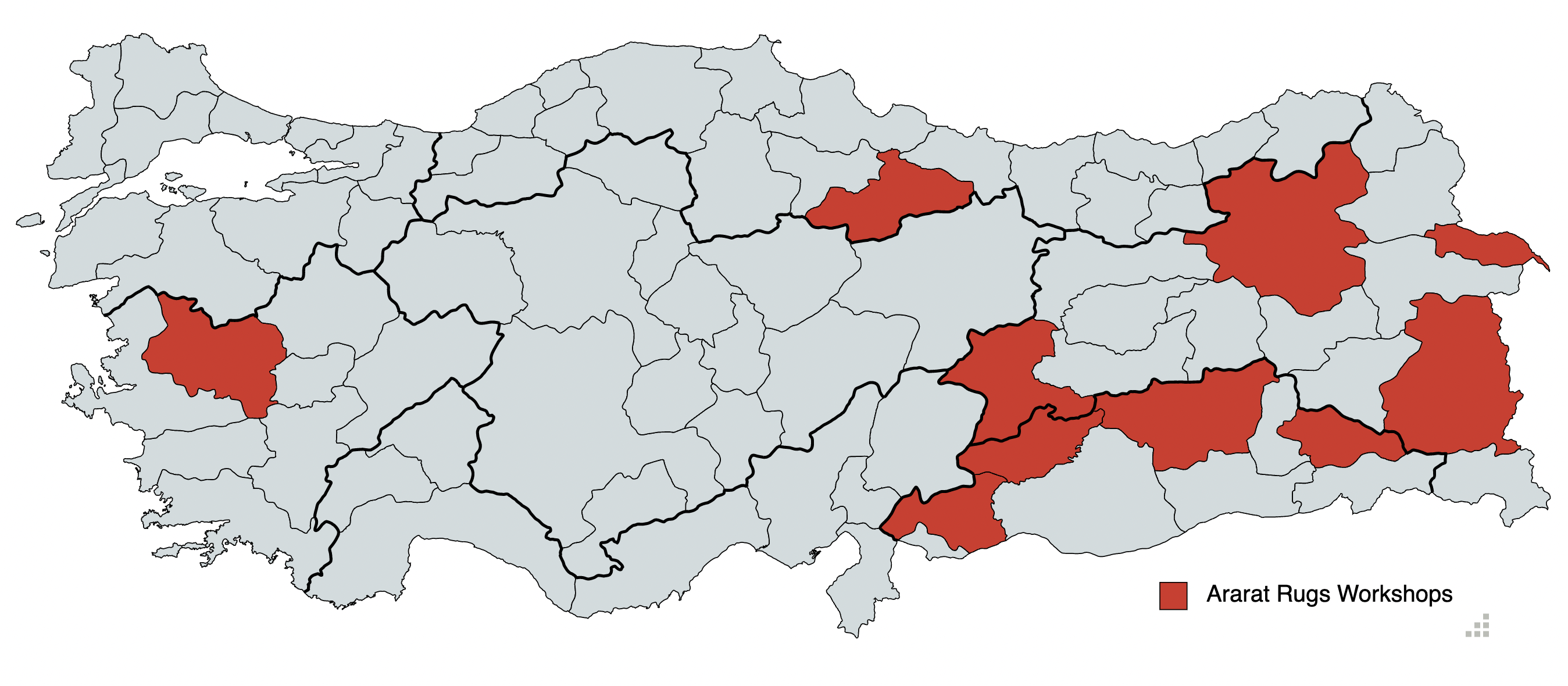 Map: Ararat Rugs Weaving Workshops Locations
Design Process
Our Workshops
Geography is a very challenging factor for us. We have weaving workshops in Adiyaman, Malatya, Diyarbakır, Antep, Siirt, Erzurum, Amasya, Tokat, Igdir, Van, and Manisa. Our workshops are found in villages, mountain villages, city centers, and districts. The reason why there are different areas is that we are trying to choose experienced weavers. Mountain villages can not be accessed in winter and we have large carpets woven into those areas. We encourage married women to work in city center workshops, and we create children's playgrounds in our workshops.
The Weaving Process
Our Weavers
We do a lot of research before opening a workshop due to the weavers' experience. We work in partnership with local governments and public education centers and select villages suitable for weaving and hosting experienced weavers. We first send an instructor to the selected regions. We receive incentives from local governments for our contribution to job opportunities and vocational training, and they often provide us with suitable buildings to establish new workshops. Our weaving instructors are paid by the state and are covered by us during the summer vacations. All of our weavers have social security and are all registered workers. Slavery, child labor, and employing uninsured workers are legally prohibited in Turkey and are the issues we care about the most. We are very sensitive about the social security and earnings of our employees.
Most of the time, the monthly salaries of our weavers are higher than their husbands and fathers, helping them to increase their social status and self-confidence, and we are very pleased. In this way, interest in weaving and traditional arts is increasing in the region.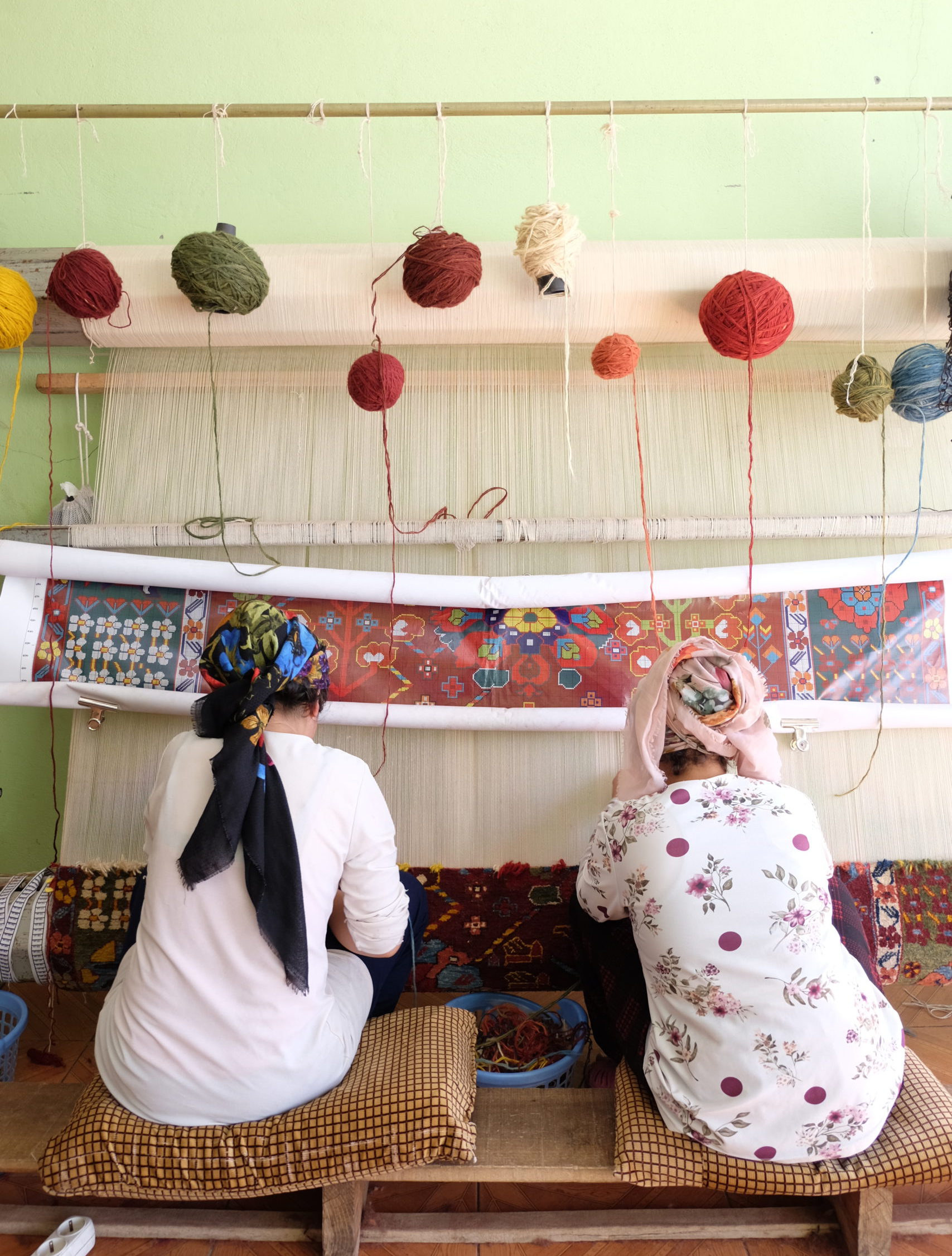 Photo: Weaving Kurdish rug, 2019 Gerger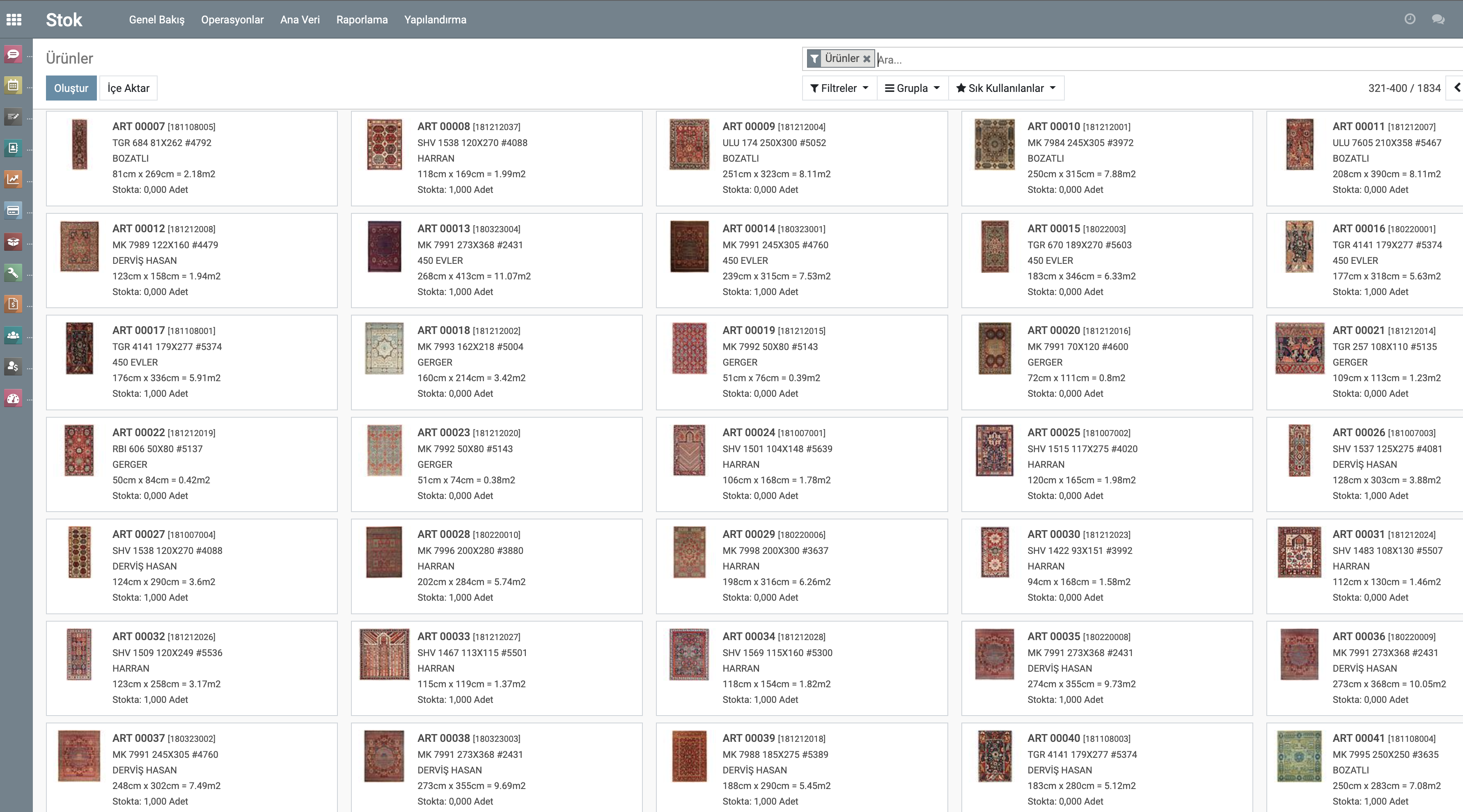 Photo: Ararat's ERP Software
Design Process
ERP System
Thanks to our Enterprise resource planning (ERP) software, our system provides an individual QR code for each carpet, where and by whom our carpets are woven, design files, designers, instructors, final controller and bill of materials, product trees, information, and photos about the weaving stages. We provide the opportunity to do research. Thanks to this system, the material, and labor spent on our carpets are recorded and our customers who order carpets can have simultaneous information about their carpets in the process. Our weavers and control personnel in the workshop log in to the ERP system simultaneously and our carpets in different cities are in production, and our communication with our employees continues smoothly. It's helping us to manage our production and increase quality. We provide management from Japan and Turkey (Malatya) centers.
A special ERP file is opened for each carpet, and the carpet design, the color threads to be used, the weft and warp threads, and design printouts are sent to the workshops. The weft is installed on the loom, 1.5 meters longer than the length of the carpet.
Weaving Process
Photo Album
We would like to share the culture of traditional weaving techniques with our family, who are the main architects of these unique works that we have told you on these pages.