Seichur Kuba Rug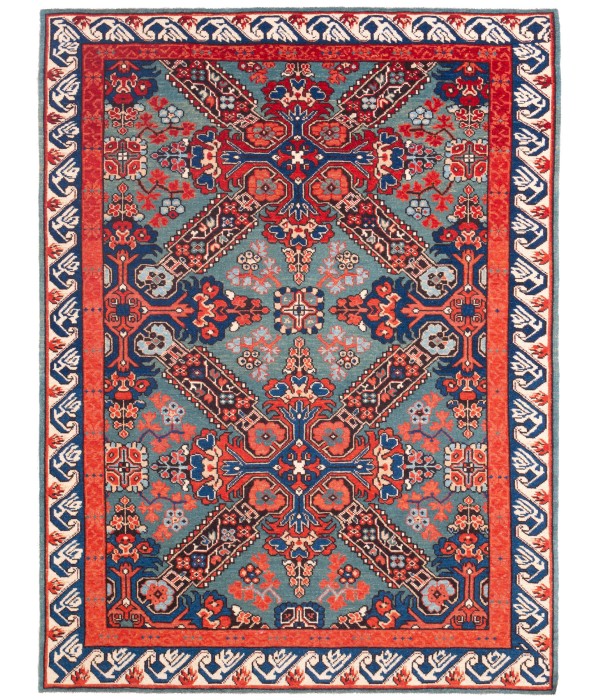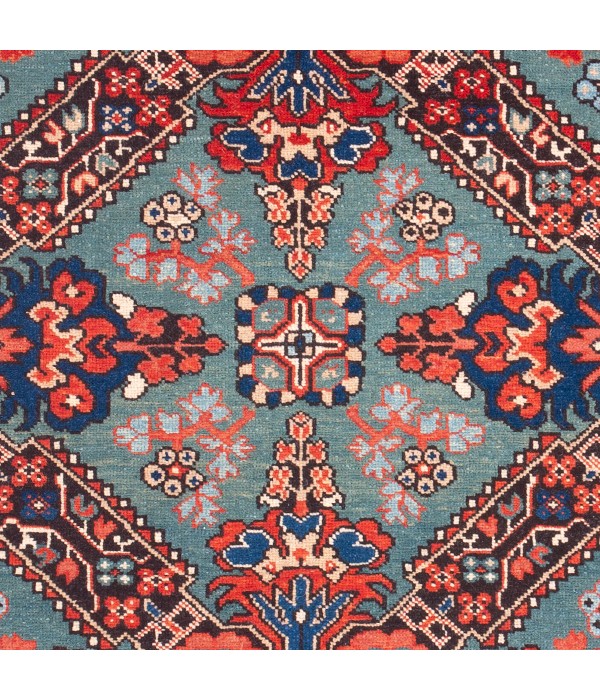 Out Of Stock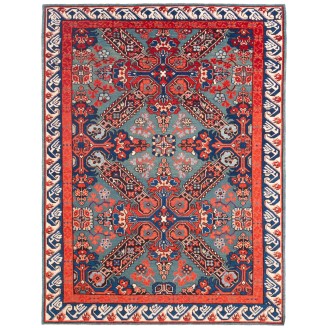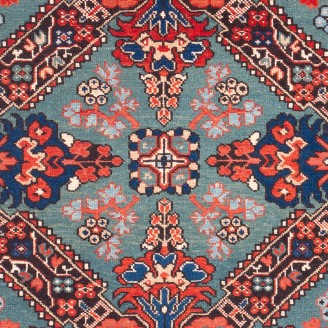 Model: ART00034
Seichur Kuba Rug
The source of the rug comes from the book
Tapis du Caucase - Rugs of the Caucasus, Ian Bennett & Aziz Bassoul, The Nicholas Sursock Museum, Beirut, Lebanon 2003, nr.90
and
Oriental Rugs Volume 1 Caucasian, Ian Bennett, Oriental Textile Press, Aberdeen 1993, pg.376
and
Caucasian Carpets, E. Gans-Reudin, Thames and Hudson, Switzerland 1986, pg.296
. This is a cross medallion design rug from the late 19th century, Seichur Kuba region, Caucasus area.
Seichur
(
Seichour
or
Seikhour
) is named after the most northerly town of the Kuba region, about thirty kilometers south of Daghestan. Like Chichi rugs, this group is characterized by the use of a particular border, usually in a predominantly duochromatic palette of blue and white. Although often described as a variant of the 'running dog', the principal motifs of this border seem to be an amalgam of 'wings' and 'torsos'; the depiction of a bird's head seems particularly clear. It is also called the "Georgian border. The most common type of Seichur rug is fairly long eight to ten feet and narrow, with a composition consisting of a series of large '
St. Andrew's Cross
' motifs with surrounding systems of stylized flowers, a design which, according to Kerimov, is called Ispigyulchichi or 'white flower'. The arrangement of the composition is usually in the form of a single vertical row of large crosses, although examples are known with a diagonal arrangement (cf. Hali, vol. 1, no. 4, p. 38 where this pattern reads vertically 1:2:1:2:1:2:1). Ground colours are usually dark blue or white. However, Seichur rugs with all-over floral compositions are frequently encountered and there is a well-known group with western-style floral decoration similar to the Karabagh rugs. In some instances, the 'western' flowers appear only on the main border, the 'Seichur' border appearing as an outer minor border. The attribution of rugs with this powerful and distinctive design and colors to the Seichour region of Kuba now seems fairly universal. The design of the rug is interpreted by our designers, and soft colors are chosen for this rug.
Color summary:
 8 colors in total, most used 4 colors are;
Imperial Red  415 (Madder Root)
Dark Brown  316 (No Dye - Sheep's own Color)
Emerald Green  407 (Chamomile - Indigo)
Green Blue  344 (Spurge - Madder Root - Indigo)
Group: Caucasian Rugs Family
Area: Seichur region
Material of Pile: Natural Dyed Hand-spun Wool
Material Warp / Weft: Wool on Cotton
Structure: Shirvan technique, Symmetrical knot
Knots Density: 35x42
Pile (mm): 2
Production Place: Southeastern Anatolia – Harran
Location: Tokyo
Stock: Out Of Stock
Dimensions:
3 ft 10 in x 5 ft 0 in ( 118cm x 154cm )
Ask a Question About This Product