The voyage of the rug
Pattern & Design
In the era of antique carpets, handicrafts do not use machines, were full of enthusiasm, skill, and individuality of the creator, and no two were the same. In addition, it is possible to obtain an abundance of high-quality natural materials such as threads and dyes. The antique here refers to things over 100 years old, but rare due to their high value, it is mainly used as a collector's piece or in museum collections and is generally out of reach. Bought and sold at auctions such as Sotheby's. The background of the era was also very different from today, which is lost through modernization & industrialization. How can we recreate the wonderful traditions of the past? Our basic concept is "traditional succession and creation". Dig up the traditions of the good times that tend to be lost, and connect them to the present age. This is the big goal of our design work.
The Pattern & Design
Oriental Patterns
Currently, we are keeping an eye on auction house information around the world about carpets. New York's Metropolitan, London's Victoria & Albert Museums, and other famous art museums, as well as small specialized museums that house private collections, and books about oriental carpets to collect information on outstanding designs and patterns from around the world.
With the collected informations around the world, we adapt the designs of the popular carpets that have survived from the 15th, 16th, and 17th centuries to our own, sometimes adding new interpretations and designing them according to our taste.
Instead of modernizing (mechanization, chemical dyes, etc.), we are trying to create new modern works by adding improvements and new designs to traditional carpets, using %100 natural materials and the same technique as the past.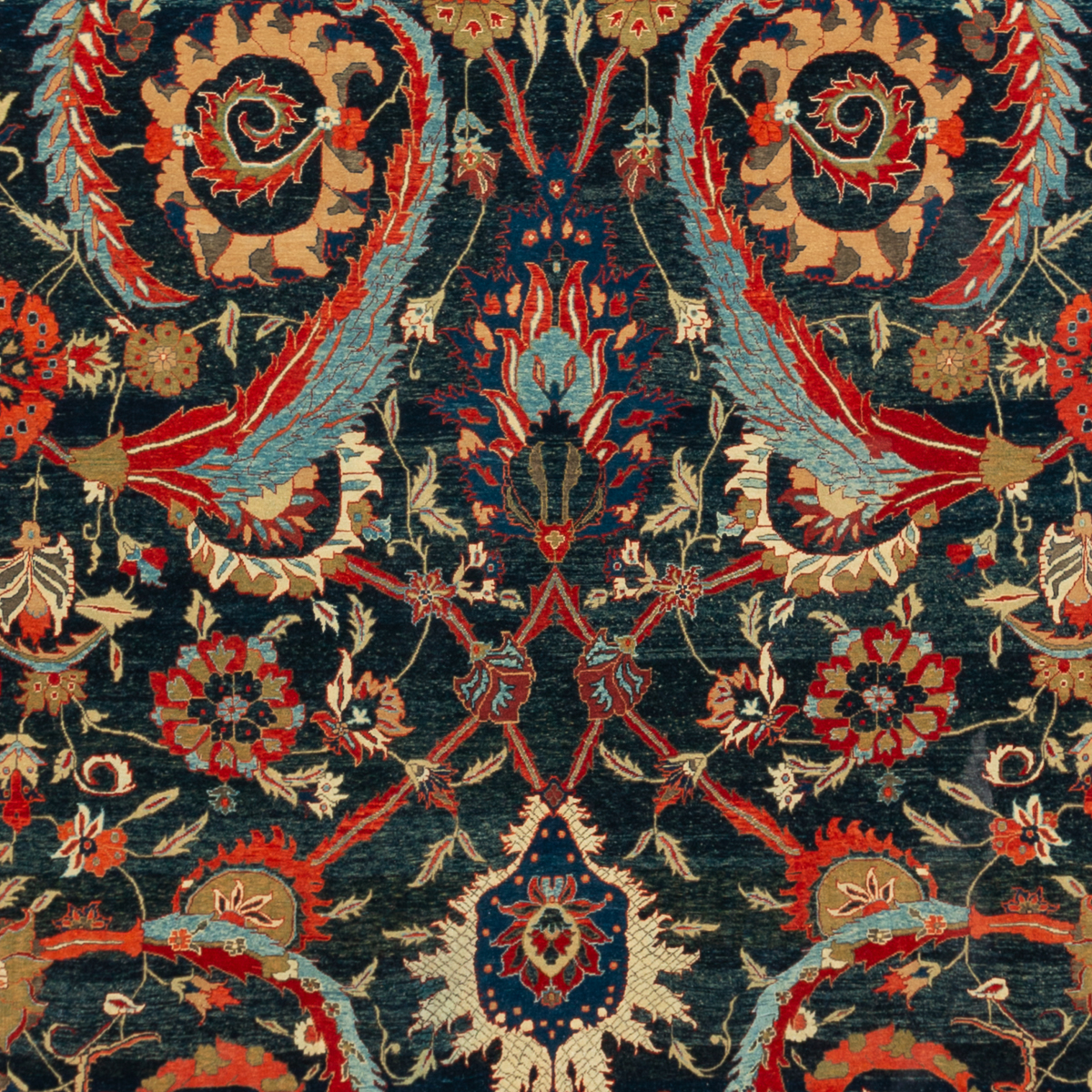 Photo: Kirman Rug Detail, 2021 Malatya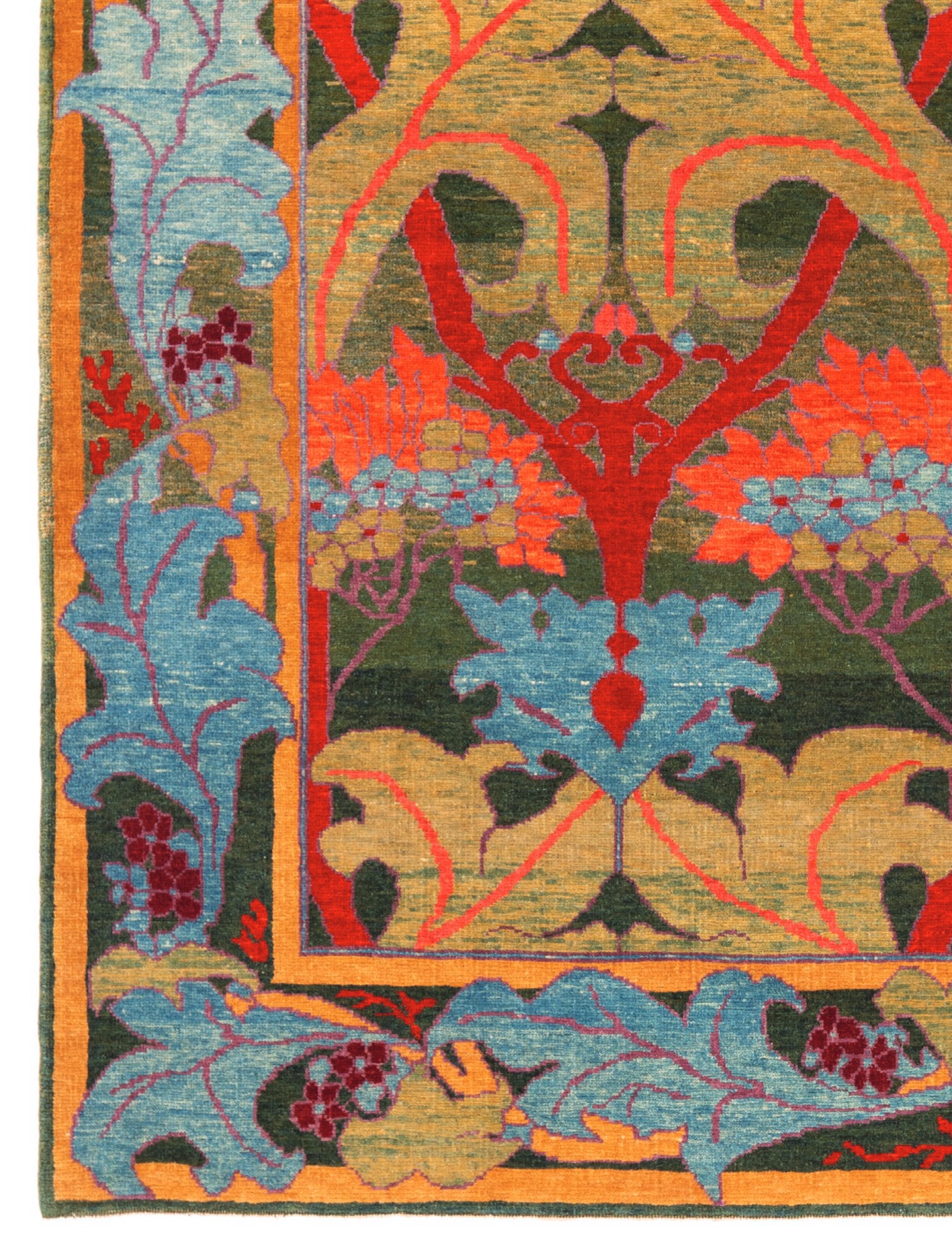 Photo: William Morris Rug Detail, 2020 Tokyo
The Pattern & Design
Modern Patterns
Following in the footsteps of William Morris, we design carpets according to his color tones and inspired his patterns with our taste. We want to adopt Rotko's understanding of color and carry out our new work in this direction. modern designs do not always remain modern and the modern designs of the past century are referred to as classical designs today. We aim to design modern carpets which are traditionally woven, they will be the classic designs of the future.
Currently, among our new design projects, we have the excitement of reinterpreting Japanese Traditional Kimono textiles, colors, patterns, and designs to make carpets for you.
The Pattern & Design
Design Studio
Our goal is not to create so-called replicas or copies. The characteristics (pattern, color tone, material, weave, etc.) are unique to Ararat, and we are proud of creating unique and our own. We choose our original colors and patterns while staying true to the original for the carpets we produce by our design team in our design office in Malatya.
The designs are first drawn by hand on grift paper and colored. Generally, designs are prepared in sections, but we prefer to prepare the design of the carpet as a whole. The hand-drawn design is then transferred to digital media on the computer. Thanks to Ararat's software, we get the actual size of the carpet in a grid and a special 'real carpet size' printout in which the dimensions and colors are defined. In this way, we eliminate the possibility of weavers making mistakes and prevent their eyes from getting tired and color confusion.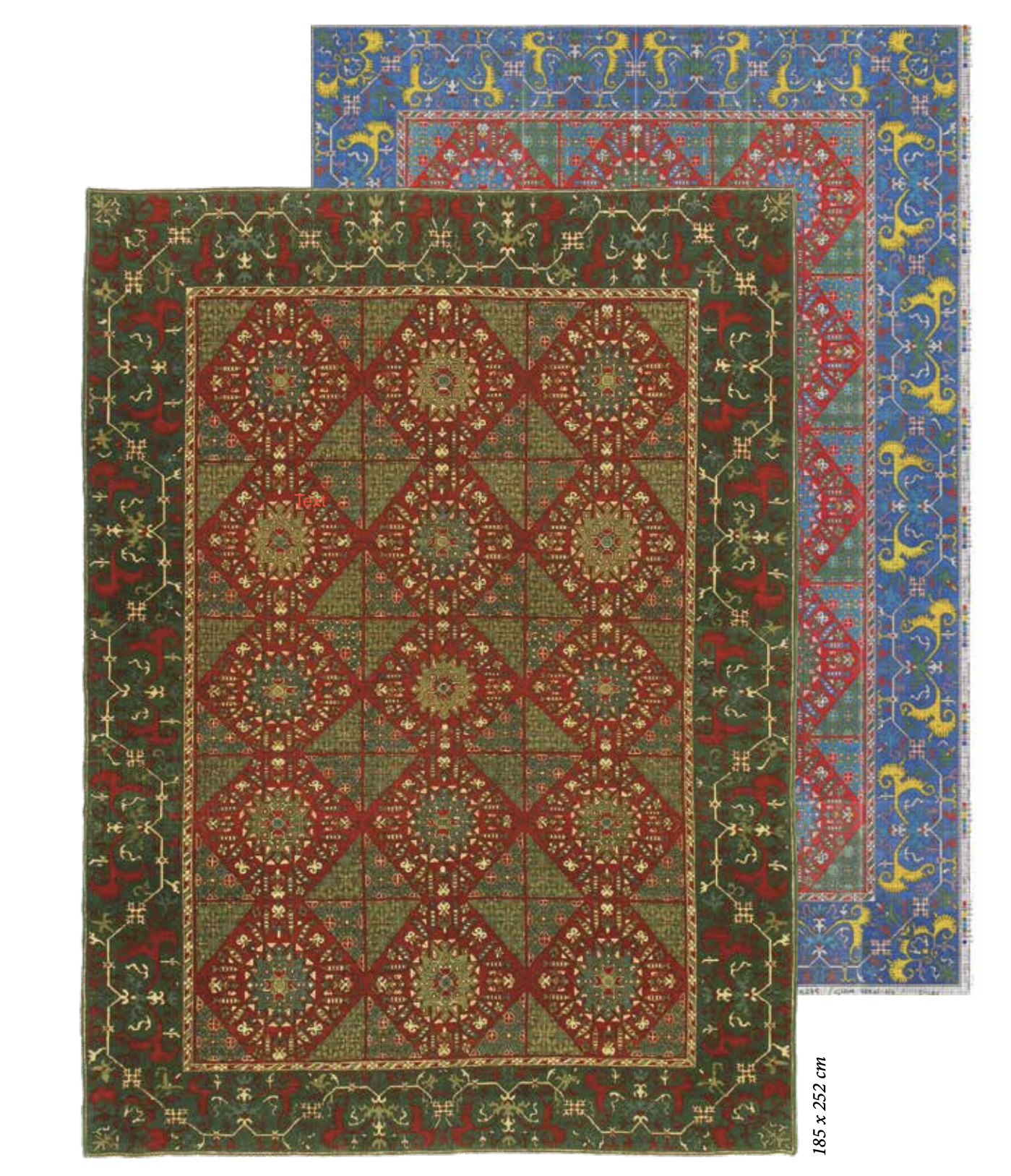 Photo: Our Chestboard Rug in the front with same size hand-drawn design backside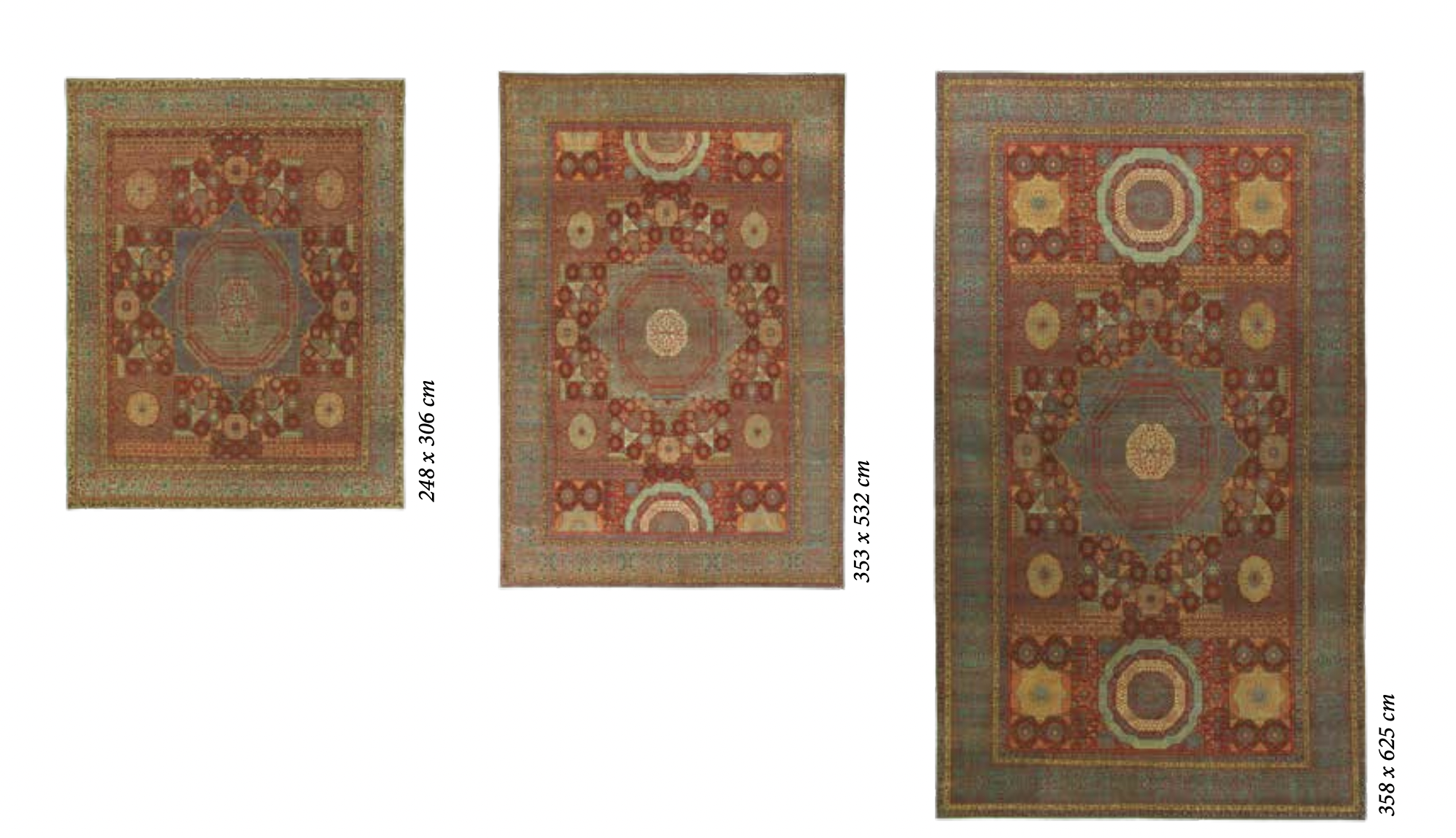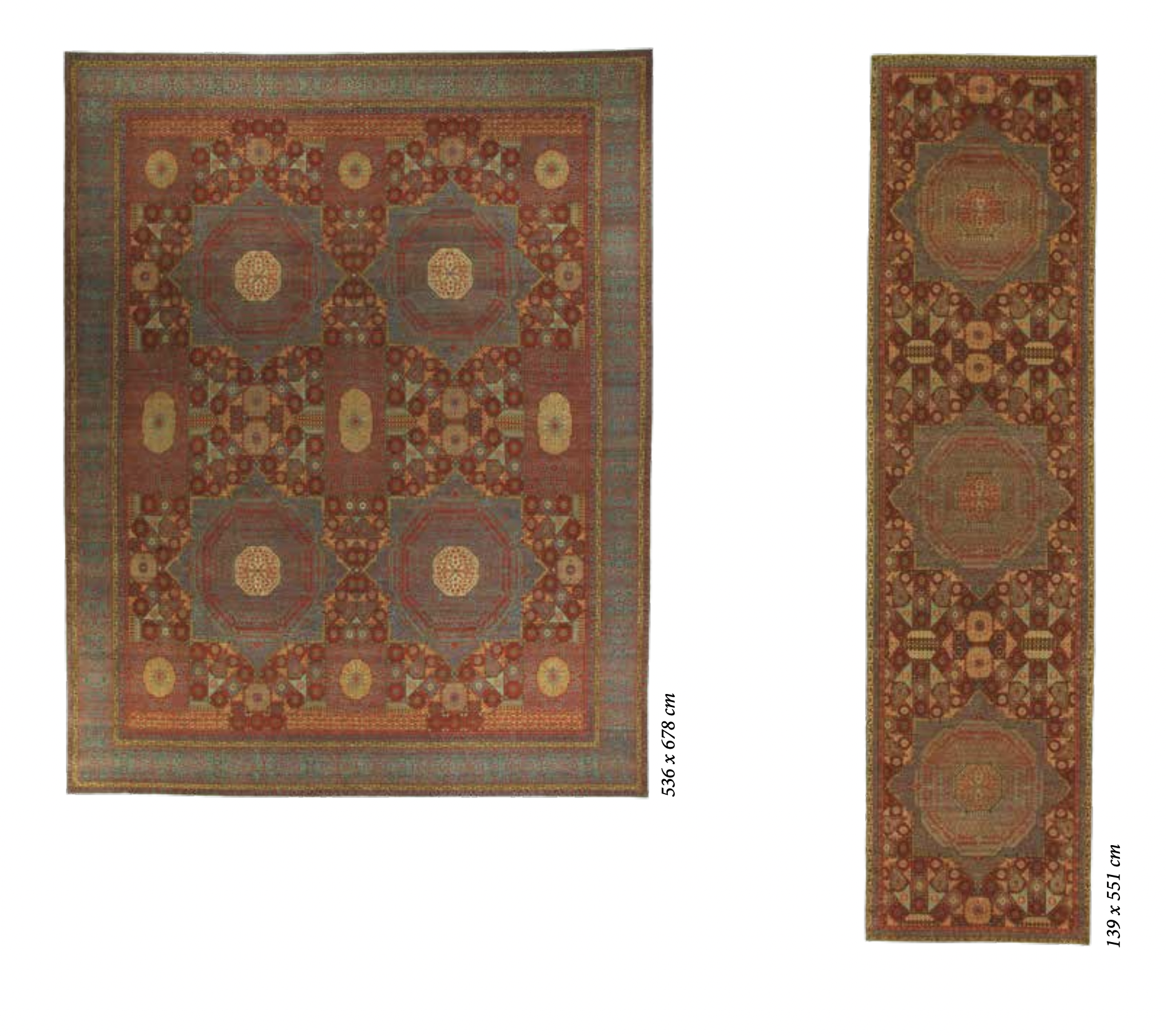 Photo: Mamlouk Carpet Designs by Our Design Office
Design Process
Our Design Approach
There are different variants of the same pattern that have been produced for about a hundred years since it was first built, in example Lotto Carpets, also in 15th-century Mamluk carpets, we can see designs made up of different combinations of similar patterns in the carpets produced that time. In our designs, you can find the aesthetics of the 15th, 16th, and 17th centuries.
In the carpets, unlike paintings, we need to understand the difference in perspective. Painters can adjust the size of the painting by themselves to catch that angle when viewed from far and closely, but since we step on carpets with our feet, our viewing distance is generally one and a half meters. The patterns of the carpets have been produced as a certain size standard for centuries, we do not want to change this standard. We use the patterns of the carpets as they are and make the enlargement and reduction processes by adding or removing designs from the originals. If we want to reduce it, we take a section from the design. If we want to enlarge it, we add a design, and also we take care to use the dimensions of the side borders as they are. We see these mistakes in today's modern carpet designs, the carpet patterns are elongated or shrank from their original appearance.