Oversized Rugs
Introduction
Oversized rugs are classified as carpets longer than 6 meters (20 feet) in width or length. Producing these carpets is extremely difficult and requires special large looms and experience. The details in the designs are the sophistication of the traditional and modern symbols and colors in the patterns that adorn the designs. The perfect harmony of patterns and colors in carpets created with hundreds of thousands of knots is the result of passion and handwork. Our oversize carpets are woven in one piece on the world's largest weaving looms, completely adhering to traditional methods, in natural ways. Today, as in the past, oversize rugs are produced as a result of special orders, which usually decorate the homes or places of wealthy individuals and families, or as a symbol of reputation in museums, palaces, churches, hotels, and similar areas. These are magnificent monumental rugs and a must-have for larger spaces.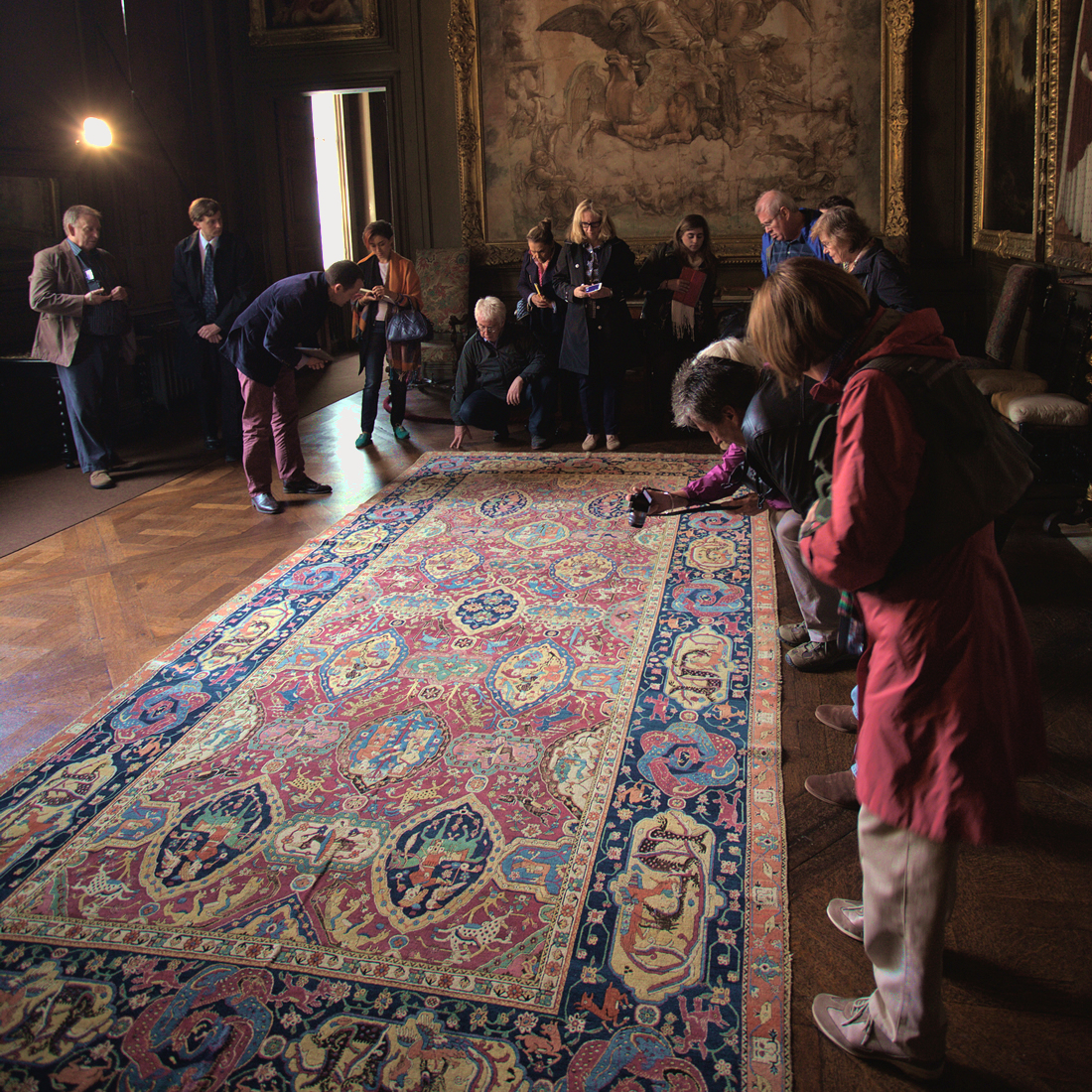 Photo: Ararat Rugs Exhibitions and Visits
Oversized Rugs
Throughout history, large carpet-weaving workshops were attached to palaces or government offices. States were constantly weaving carpets for new palaces, new mosques, gifts to other countries' courts, etc. Among the known ones were Seljuk, Mamluk, Safavid, Mughal, and Ottoman workshops. These workshops did not have any cost concerns.
Weaving unique oversized rugs adorning palaces, epic mansions, and stunning architecture, immortalizing the places they belong to, and taking their place in history is a difficult art that is possible only with passion. Oversize oriental and modern rugs are valuable not only for their size, but also for their stories, patterns, being natural, and of course, creating a bridge between the past (traditional) and the future (modern).
You may be looking for oversized antique rugs with a modern feel. We invite you to consider traditional and antique rugs that provide just that. These traditional and antique rugs fit well into modern spaces. Its unique and rare geometric patterned carpets come to life today with original ideas, and the past is kept alive in a dazzling way.
There is no limit to imagination, and we make your dreams come true with 100% natural materials and colors, with passion and completely adhering to traditional carpet weaving techniques.
We tell you how we do it and what it is to produce oversized rugs in numbers and cases. Below is "Why is oversized Rugs a Masterpiece?" You will find answers to questions that you may not have heard before and that you cannot believe, and you will think about the subject a little more.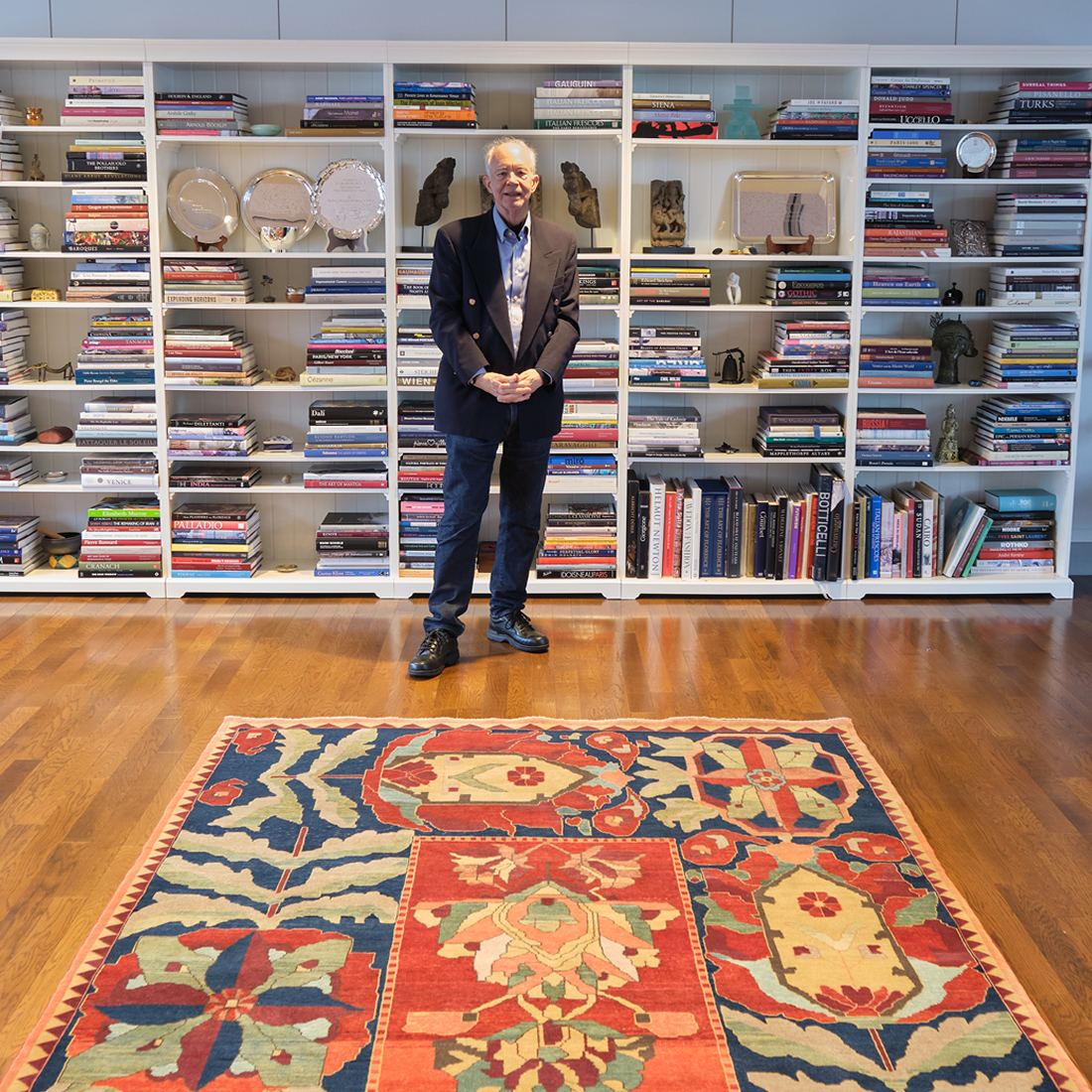 Photo: David Malone, President of UN University - Tokyo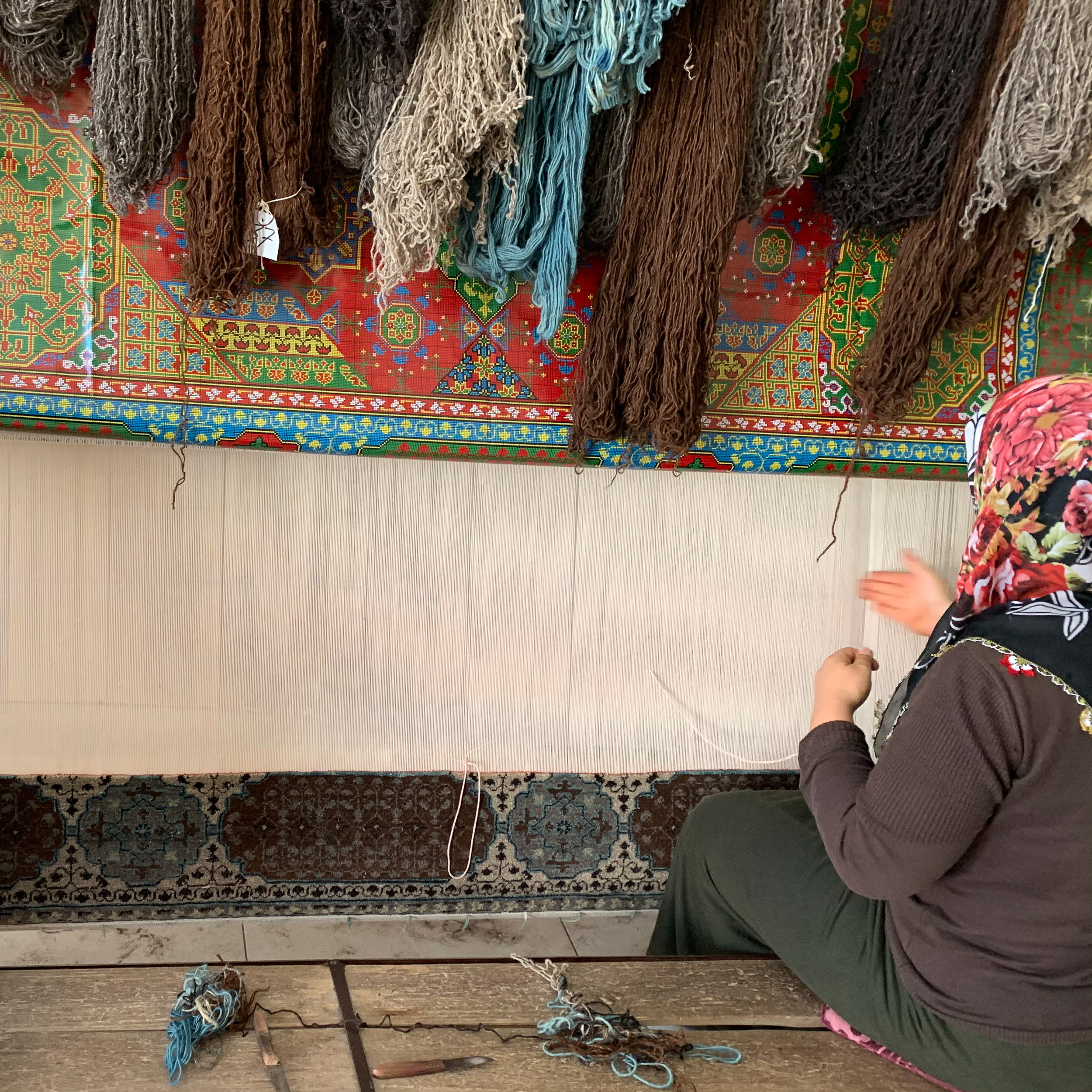 Photo: Weaving loom and craftsmanship, Ararat Studios
Oversized Rugs
Weaving Loom
Very special looms are needed to produce such oversized rugs. These are pieces specially designed, produced, and included in the inventory. Another important detail is that the area where weaving will be made is wide enough and that it receives light and air.
The durability of the weaving loom, and its inability to stretch or deform during weaving directly affect the quality of the produced oversize rug. Ararat Rugs can produce oversize rugs of 100 square meters and over. This means that the carpet has a width length of at least 10 meters (33 feet). The weaving area and the studio have been specially designed to remove the carpet, which has been produced on the loom and moved for other operations. Imagine that an oversized carpet is produced and trapped within the weaving area. For this reason, you need to consider all the engineering details for the production of oversize rugs.
Oversized Rugs
Warping a Loom
Before you start weaving a carpet, you need to warp the loom by the order and design. This very important process is vital for oversized carpets. These procedures are only done by those with expertise and can sometimes take weeks.
Warping a loom directly affects the quality and durability of the carpet. It is essential that the threads are sufficiently stretched, that they do not deteriorate during weaving, and that the processes are carried out using the right material. These processes are done by the people who prepare the loom.
We would like to give you a simple example; to start the production of a 45-square-meter carpet, you need to prepare the loom and complete the warping loom processes. Unbelievable, but for this warping a looming process, you need to use about 55 kilometers of rope and complete them in a certain order without any errors.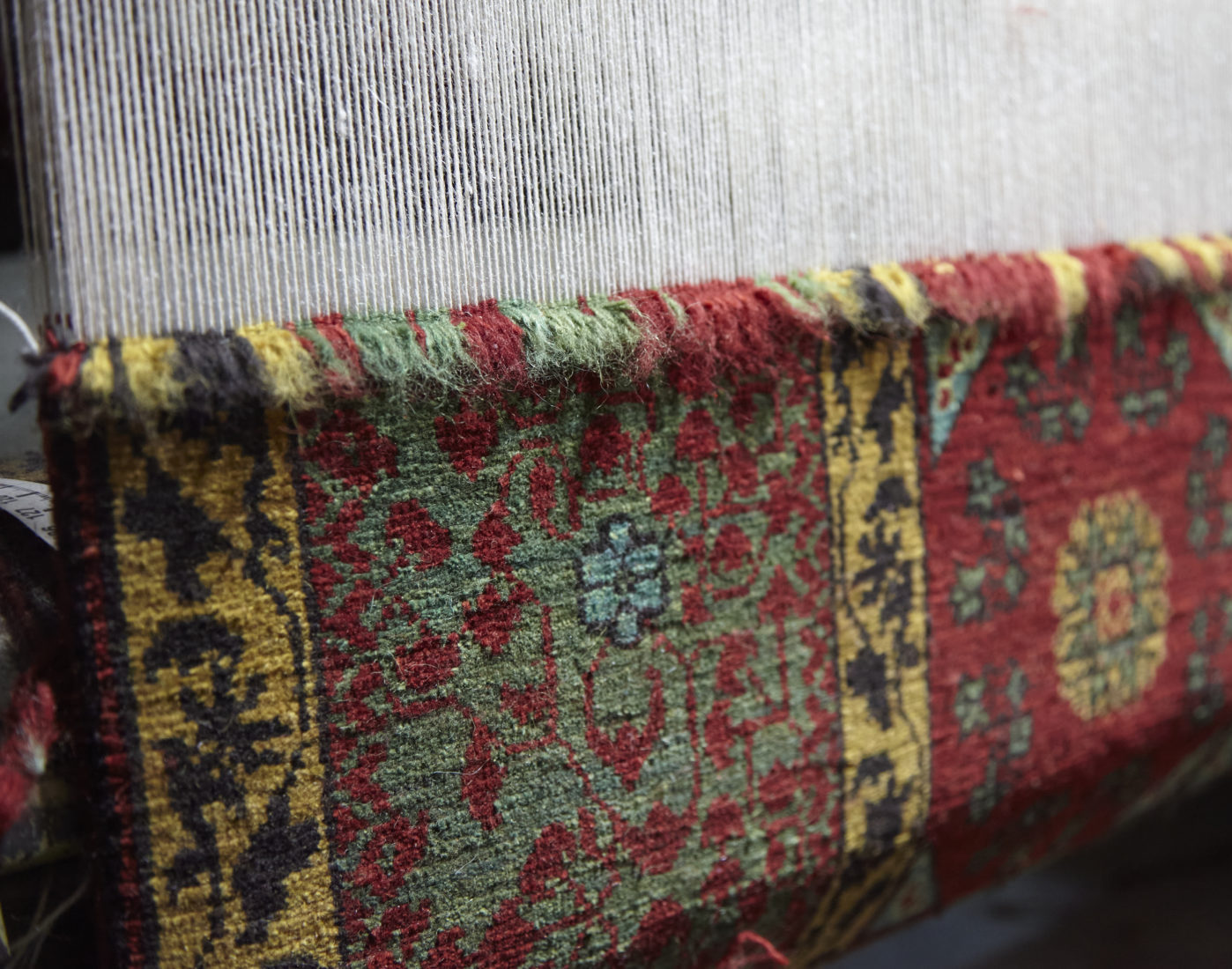 Photo: Wraping Loom, Ararat Rugs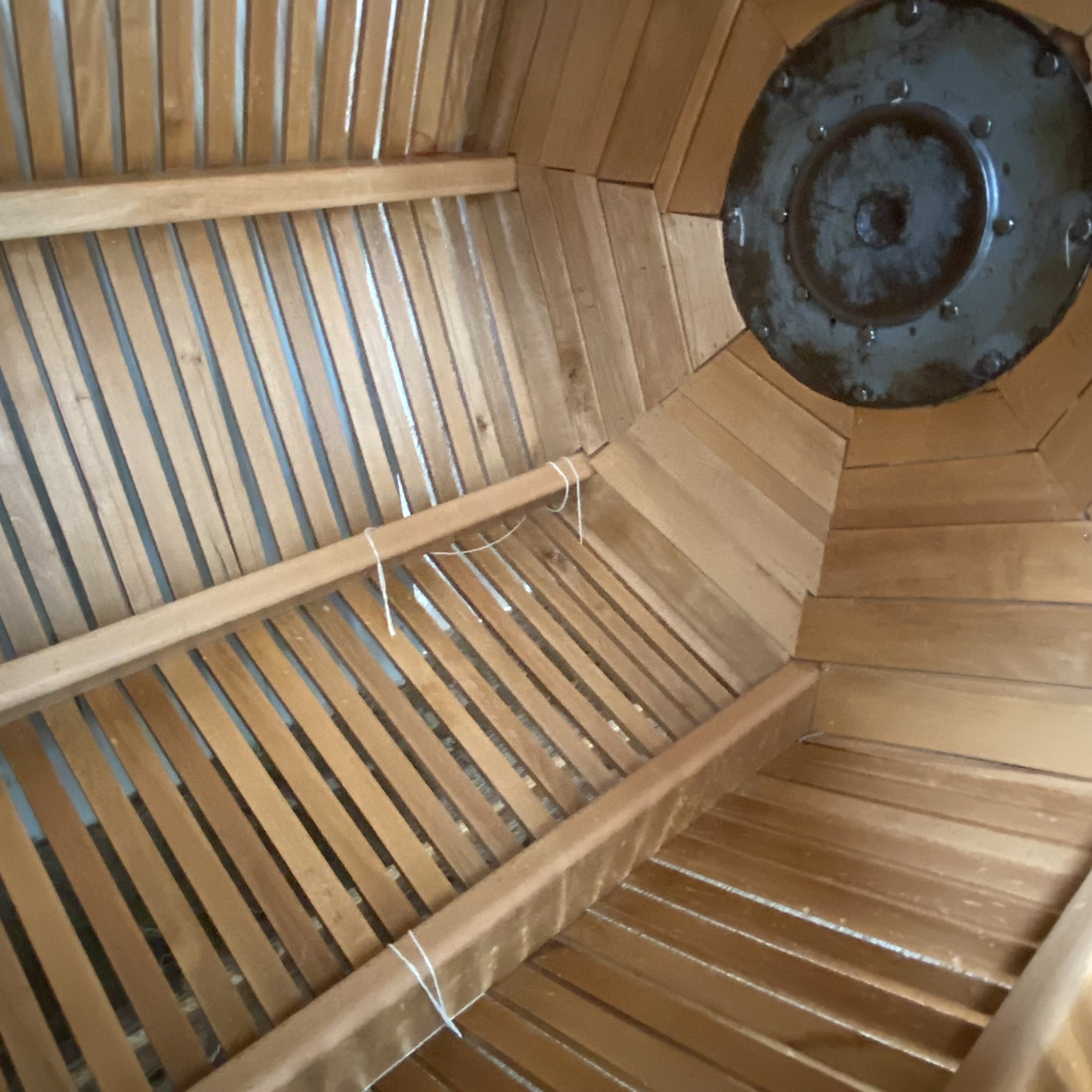 Photo: Specially Designed Dusting Machine, Ararat Rugs
Oversized Rugs
Washing
The weaving process of a 50 square meter carpet takes approximately 250-300 days depending on the weather or the weaver's conditions. As explained here, your loom and weaving area is the first part of the job.
Another important step in the finishing process is the washing process. Why is it so important? Think about it, a 50 square meter carpet weighs about 100-120 kg. It is a fact that you need a very special area for cleaning operations. When washing this rug, the weight will increase 8 to 10 times. The new weight of the carpet waiting to dry will be more than 1000 kilograms (more than 1 ton). It will also need a space to dry the carpet with natural methods. We need to have the right plan, team, and equipment to carry out customers' order for such an oversized carpet and deliver it to our customers as promised.
Oversized Rugs
Dusting
As with all carpets, finishing processes are applied for oversized rugs as well. For Oversized Rugs, these processes are possible with a very special team, equipment and experience.
For dusting processes, we use wooden drum mechanisms made of natural materials that we have developed entirely ourselves. In these operations, it also adjusts the brightness of the natural material (wool) ideally.
Burning
Natural wool is a non-combustible material. We obtain the colors from nature without using any chemical materials and burn them to give the carpet its final shape within the finishing processes of a carpet. The incense and burning processes as the first step to removing the fuzz on the backside of the carpet. But you need a huge and well-controlled area to do these operations with a flamethrower. For oversized rugs, these processes are carried out by experts who are experienced in the burning process.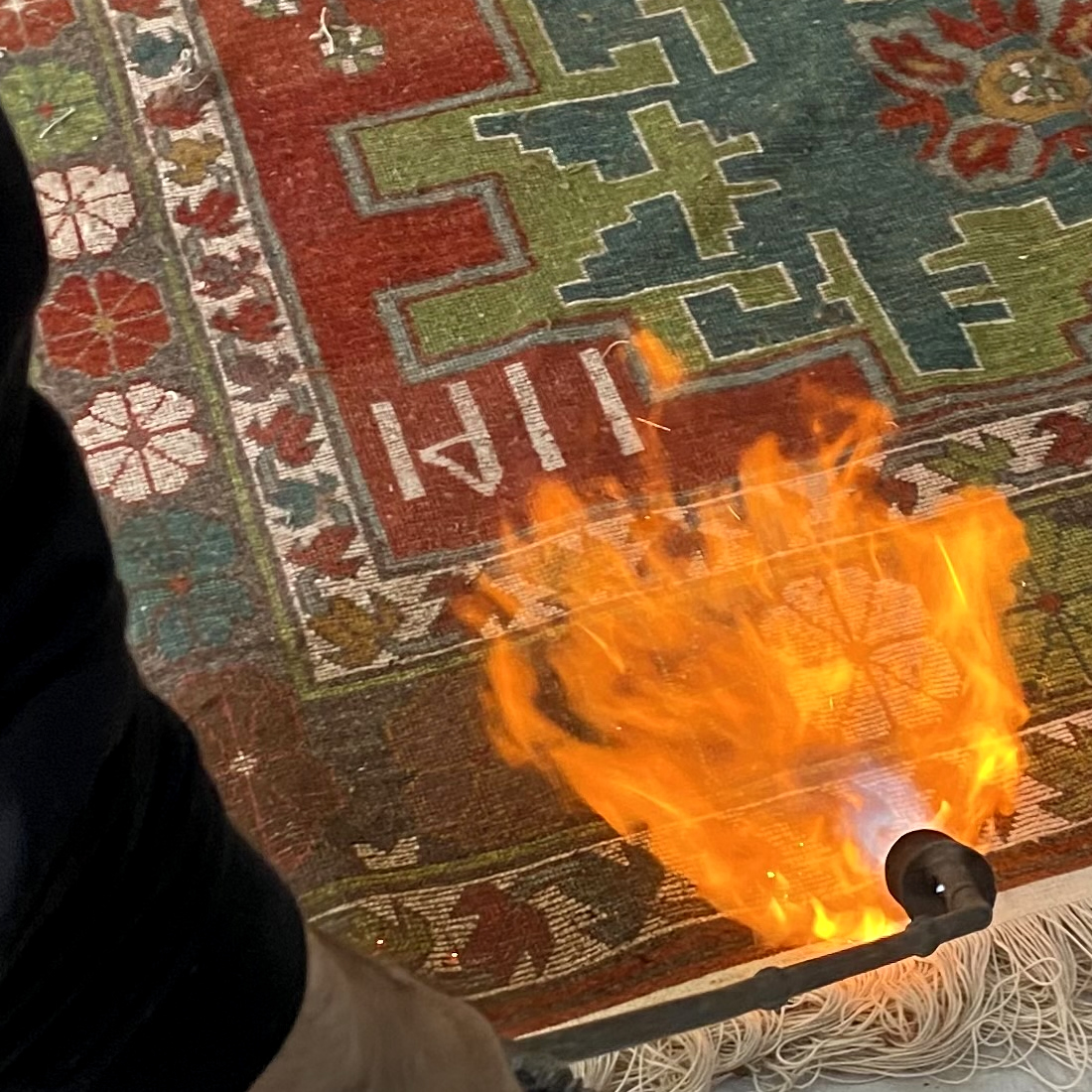 Photo: Burning process, Ararat Rugs
Oversized Rugs
Washing, Stretching, Weeding
Oversized Rugs are made by passionate professionals. Your order of oversized rugs is produced in approximately one year, depending on the size, completely using traditional methods, including antique or modern designs. You can access our ERP system online and track & monitor the status of your carpet simultaneously. We have to think about everything and this job is no mistake.
The steps involved in finishing processes such as washing, stretching, and weeding are also made by human hands, special skills, using natural methods as promised in very special courses.
At the end of the 19th century, workshops producing carpets for the European and American markets were established in the northwestern regions of Iran, first in Tabriz, then in Heriz by reducing the cost and quality.
In the same way, high-quality carpets were woven in northern regions such as Lahore in India, but for the same cost reasons, the quality was reduced and woven in the Dukan region.
With the rise in labor prices, even China became no longer preferred. Unfortunately, there is no place to produce carpets except in India, Afghanistan, and Pakistan. In Turkey, the situation is no different. In the last 10 years, production has almost stopped. But the quality of weaving in Turkey is not up for debate.
We solved this problem by eliminating the middlemen and direct customer sales. No matter how much the cost increases, it will not be higher than the share of the middlemen.
Along with the change in the economic conjuncture and the understanding of management throughout the world, states and private enterprises abandoned this art due to the increase in costs and the acceleration of industrialization. As we declared at the beginning, Ararat Rugs is passionate about this art. Today, with 40 years of experience and approximately 400 weaving artists (masters), it continues on its way without compromising on quality and traditional methods. Ararat Rugs is committed to keeping this art alive and never surrendering to the industry, and therefore not exceeding its target of 1,000 weaving artists (masters).