Northwest Persia Rugs Family
Heriz
Located at east Azerbaijan; about one hour drive from Tabriz to north east. one of the most untouched weaving areas of Persia.we call it Heriz area; but it might be named, with almost equal propriety, the Geo ravān, the Mehriban or the Bakshaish area.Rugs bearing the names of these and other villages was daily trafficked for in the Tabriz bazaar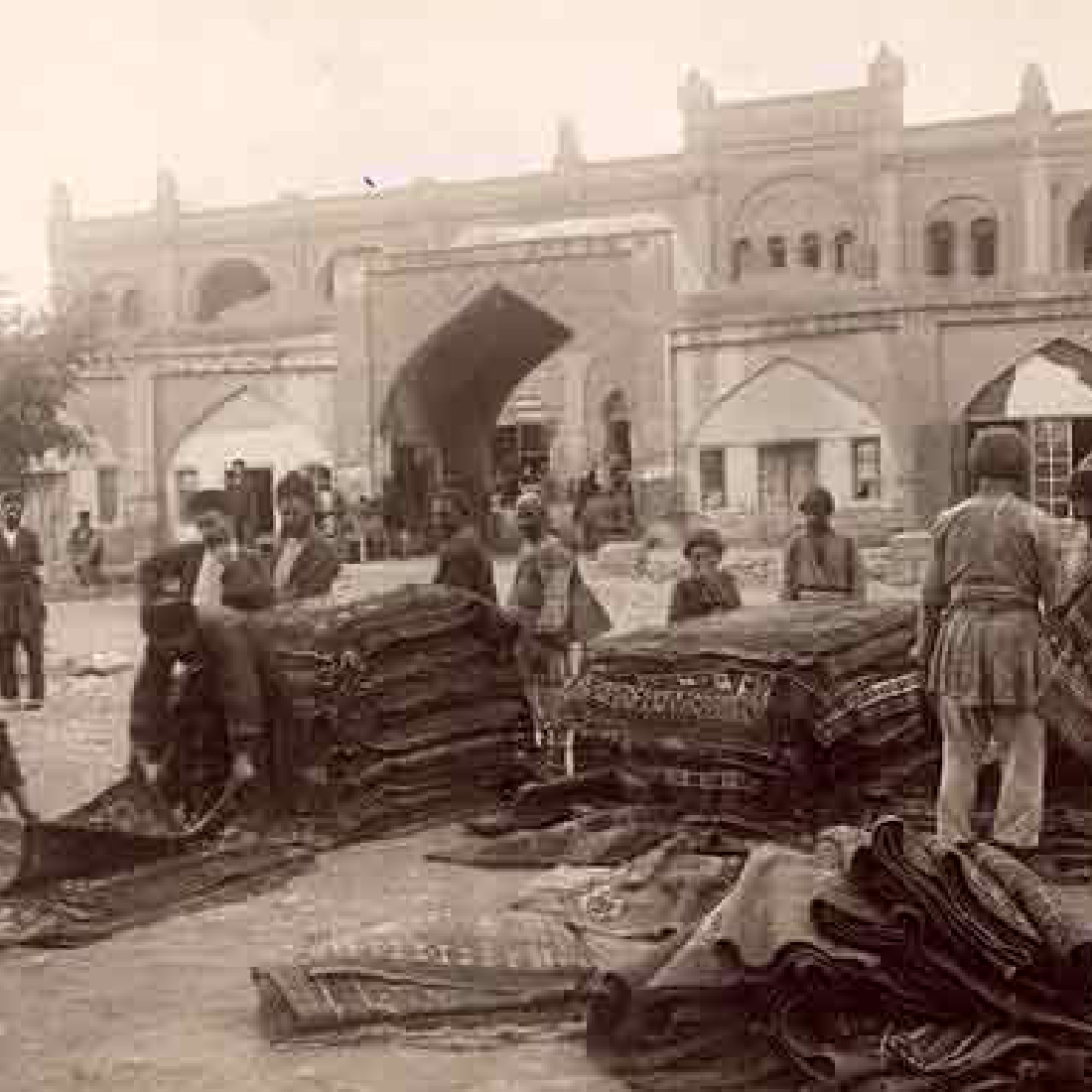 The rug trade in Ganja, Azerbaijan in the late 19th century.
Past and Future
History
Weaving has been carried on in the Heriz area certainly since the beginning of the nineteenth century, Bakshaish is the village where weaving has been going on the longest, now producing the region's characteristic carpet, but which in the late nineteenth century had a tradition of weaving carpets similar in design to those of Arak. The typical Bakshaish was similar to the so-called Ferahan of the time, with an overall Herati pattern, usually with a more squarish shape than the narrow Ferahans. They are double wefted and Turkish knotted, differing from the Arak pieces.
The Tabriz merchants knew that the West was at that time demanding carpet sizes in medallion designs, in place of the long and narrow pieces in small repeating patterns which the village weavers had hitherto been producing. It was in the course of things, therefore, that one of those enterprising traders should send to Georavān (at that time a large and important village) or to Bakshaish or Herīz an ordinary, curvilinear medallion-and-corner Tabriz design to see what the village weavers would make of it. And then, of course, the inevitable happened: the weavers of the area (as incapable then as they are today of weaving curves) broke up the design into straight lines-the vertical, the horizontal and the diagonal of 45 degrees; and thus, unwittingly, produced the Heriz or Georavan design.
Until recent years the weavers of the Heriz area procured their wools or spun yarn from the neighbouring Shah-seven tribes. That admirable practice is, unhappily, fast disappearing. Today the villagers buy their yarn ready spun in the bazaars of Tabriz or Ardebil.
Patterns, motifs, symbols
Pattern
These rugs are renowned for their rectilinear designs, a feature that is unusual in Iran where the traditional prefers the arabesques and scrolls so typical of Persian manufactory rugs. This feature has been explained by some authorities who are at pains to assert that the Heriz weavers are incapable of weaving anything other than straight lines. However,even a cursory examination of some of the masterpieces from the looms of Heriz will dispel any belief that their weaving capabilities are limited. The more likely explanation is that they prefer the rectilinear style which has proved eminently successful in foreign markets for over a hundred years.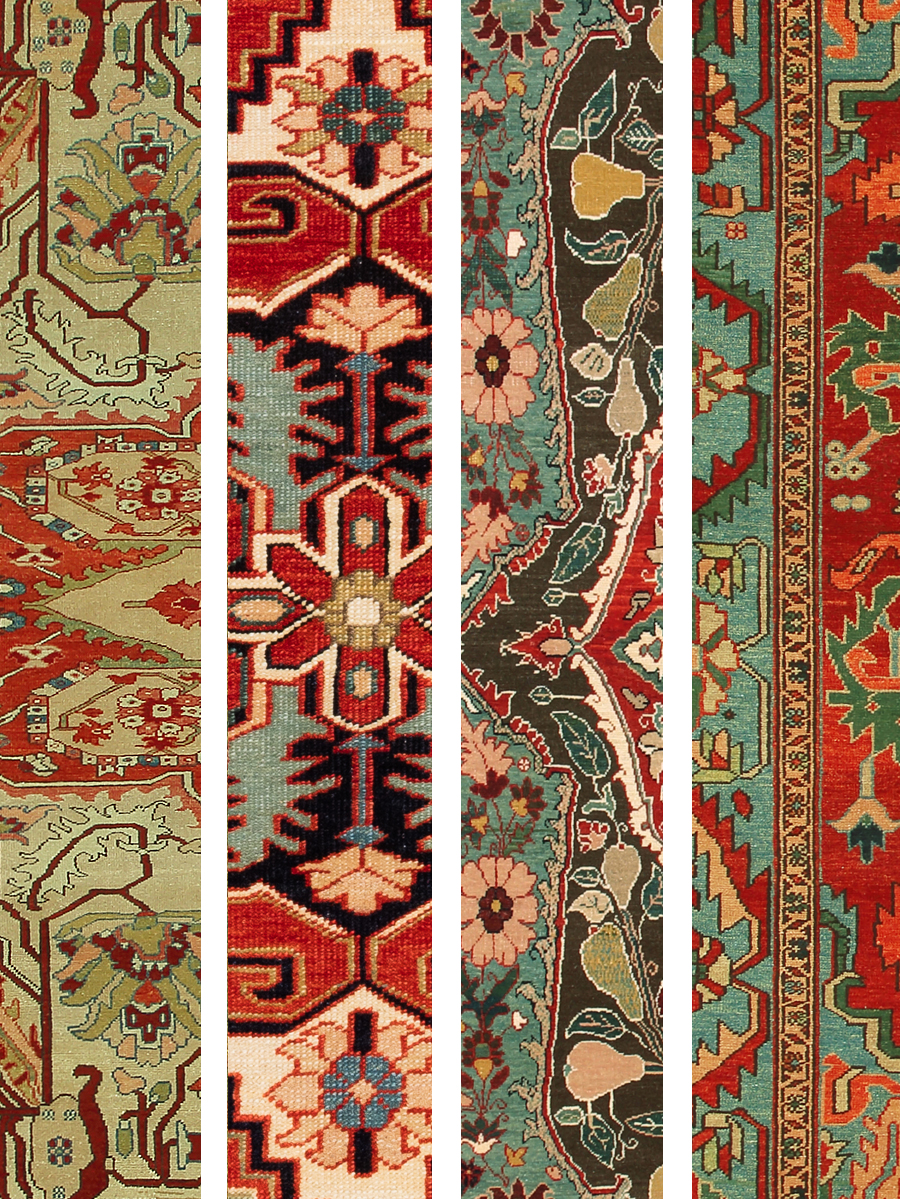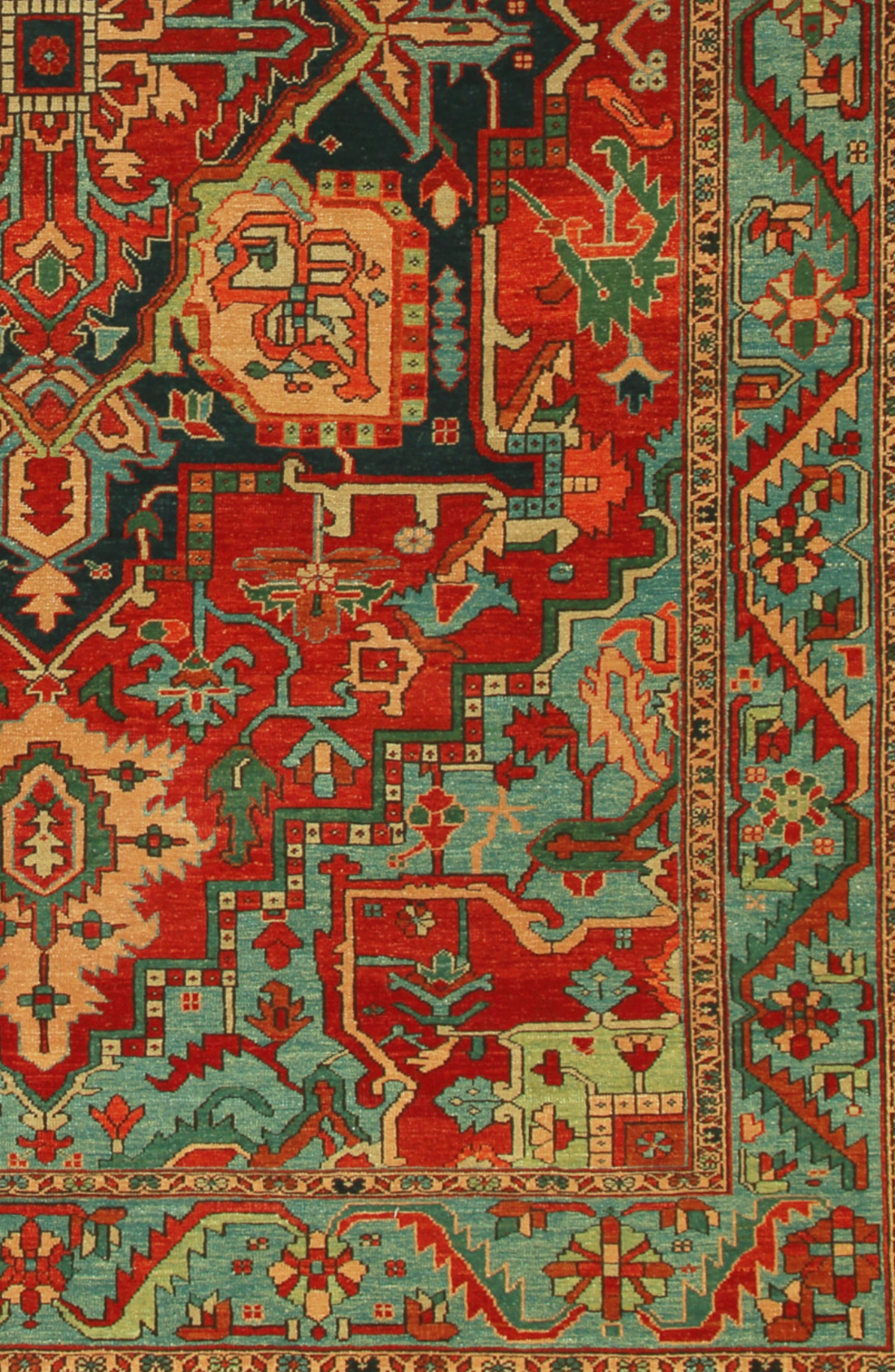 Color culture
Colors
We have special red for Heriz which we buy madder roots from the city of Yazd.
North west Persian rugs mostly used similar colors but heriz has a special red and light blue
Our Weaving Process
Weaving and Production
The population is exclusively Turkish; and, like all esign and crudely weavers of the Turkish race, they weave the Turkish ways,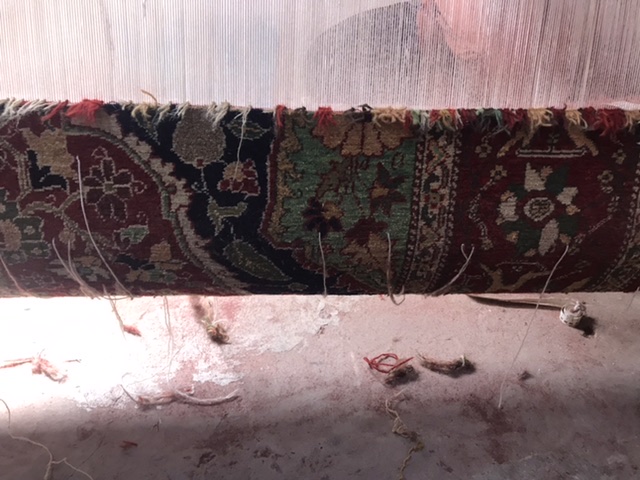 Photo: Heriz Rug Weaving, 2021 Diyarbakir
Selected Products
Heriz Rug Collection