01 Jul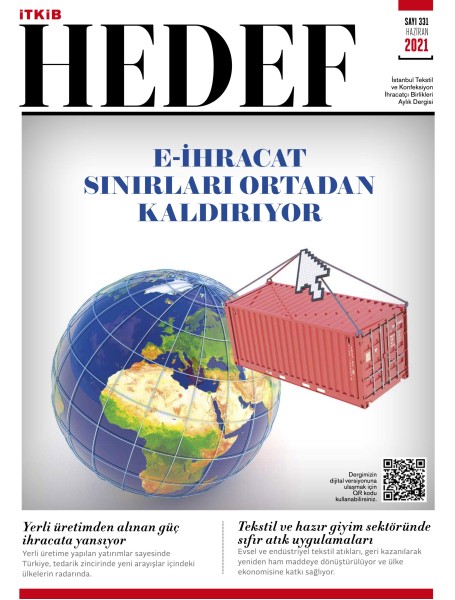 Voyage of Rug
Ararat Rugs Interview at Turkish Magazine
THE JOURNEY OF THE TURKISH CARPET FROM ANATOLIA TO JAPAN

The second-generation representative of Ararat Carpet, Hakan Karar, blended his father's carpet-making profession with his interest in Japan. The decision, which has been offering Turkish carpets to its customers in its store in Japan since 2003; pointed out that all of them were made in Anatolia.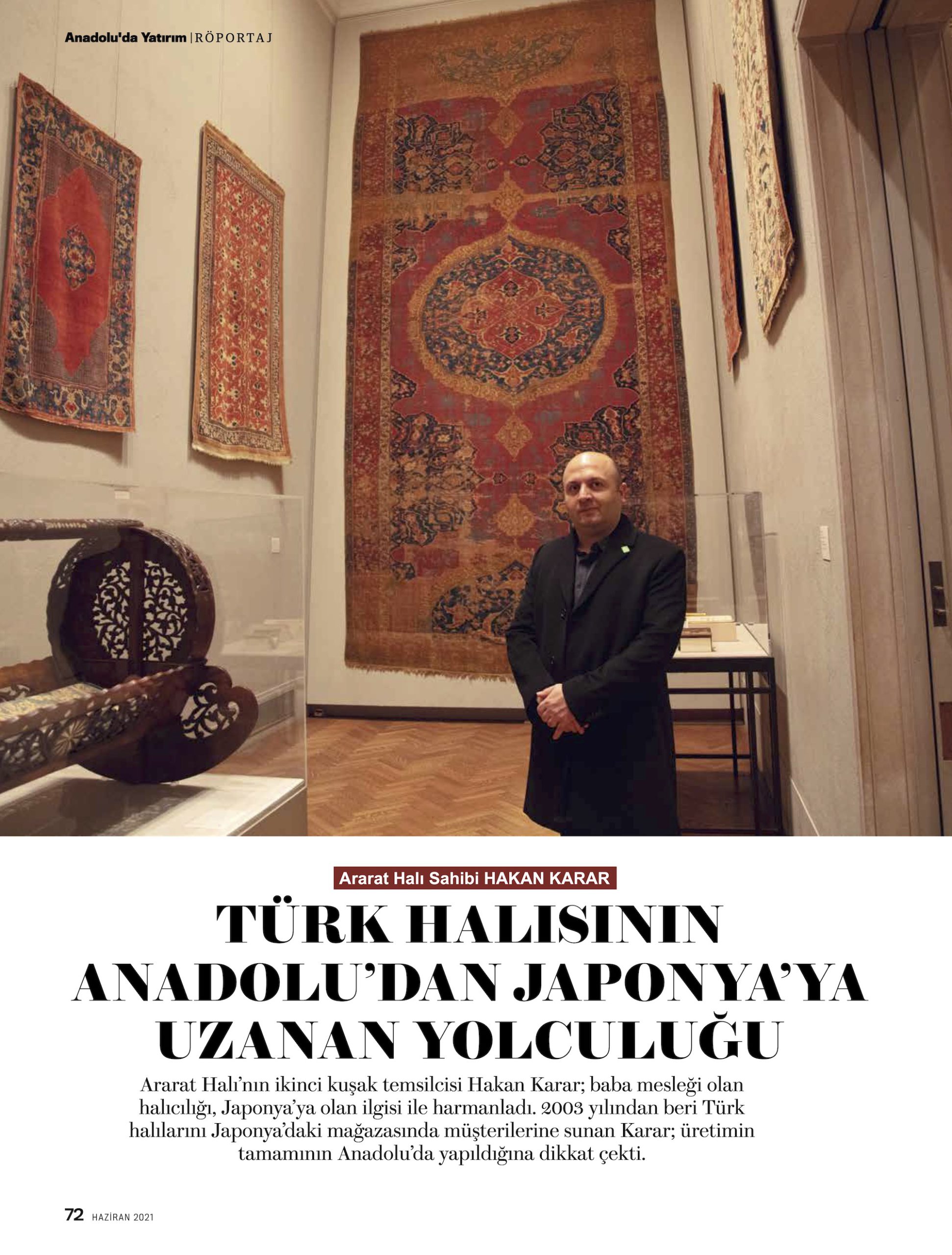 We see that Kilim House's field of activity focuses on handmade carpets and kilims. Do you think there are difficulties in operating in such a niche area?

When we first started, we were selling old and antique rugs. We were procuring some of them from Turkey and the rest from European and American auction houses. Then we started selling carpets. We used to buy old and antique carpets from Europe and America, and new carpets from Turkey. The number of companies that we buy carpets from in Turkey has decreased day by day or they have shifted their production to countries such as India, Bangladesh, Pakistan, and China. We started to have serious difficulties in finding quality goods. Firms were sacrificing quality to reduce their costs. We couldn't find a formula other than making our product. First, we took over the workshops of a company that has been operating for more than 40 years. Then we started to establish our workshops.

What kind of interest is there in Turkish handmade carpets in Japan and abroad in general?

We export 100 percent of our production. Our primary export markets are Japan and the USA. Carpet culture in general is not very common in Japan. They know Persian carpets better, but over time, Turkish carpets began to be in demand. The Japanese also take off their shoes and enter their homes. Companies that have produced quality carpets to date, produced for Europe and America. In these countries, the direct physical contact of people with the carpet is not like the Turks and the Japanese. For this reason, companies gave more importance to the appearance of the carpet. We gave more importance to issues such as the texture of the carpet, its softness, and the quality of the wool.

In this process, you have established your workshops in many cities of Anatolia by making Turkey a production base. Can you give information about your workshops?

We have workshops in Diyarbakir, primarily in Adiyaman, Gaziantep, Malatya, Siirt, Erzurum, Igdir, and Amasya. Our production continues in 25 workshops in total. We cooperated with public education centers in the establishment of some of our workshops. We have joint work with the municipality in Gaziantep Oguzeli district and have workshops that Lice, Diyarbakir Municipality has allocated to us. In terms of cooperation with universities, we produce at Iğdır University. We have about 400 female teachers and weavers in our workshops. We also have a staff of about 10 people in Malatya. Our production capacity varies according to the type of carpet we will weave. We are one of the rare companies with an eight-meter weaving loom, and we can even weave carpets of 160 square meters.

Handmade carpet production is also one of Turkey's most important cultural heritage. The number of people and producers operating in this field is decreasing day by day. What do you think can be done to revive the profession?

High costs are the biggest reason for the decrease in production in Turkey. With these costs, it is almost impossible to compete with countries such as India, Bangladesh, Nepal, and China. Until now, companies producing in Turkey were producing wholesale rather than branding. Wholesale customers prefer to buy cheaper products and make more profit. Unfortunately, with the retail sales of carpet makers in Turkey selling imported goods, production has dropped seriously. Although the state succeeded in raising the import tax and reducing imports, this time domestic carpet stores preferred to sell machine-made carpets instead of reviving hand-made carpets. Before the pandemic, there was a small number of products to sell in domestic stores. Unfortunately, this has come to an end with the decrease in tourists. Since we did not produce to sell to a wholesaler, our production was able to continue. The majority of our production is for direct selling to the end user. Specific to the customer, we commit to quality and sell under one brand. We sell qualified products and can compete with carpets produced in other countries.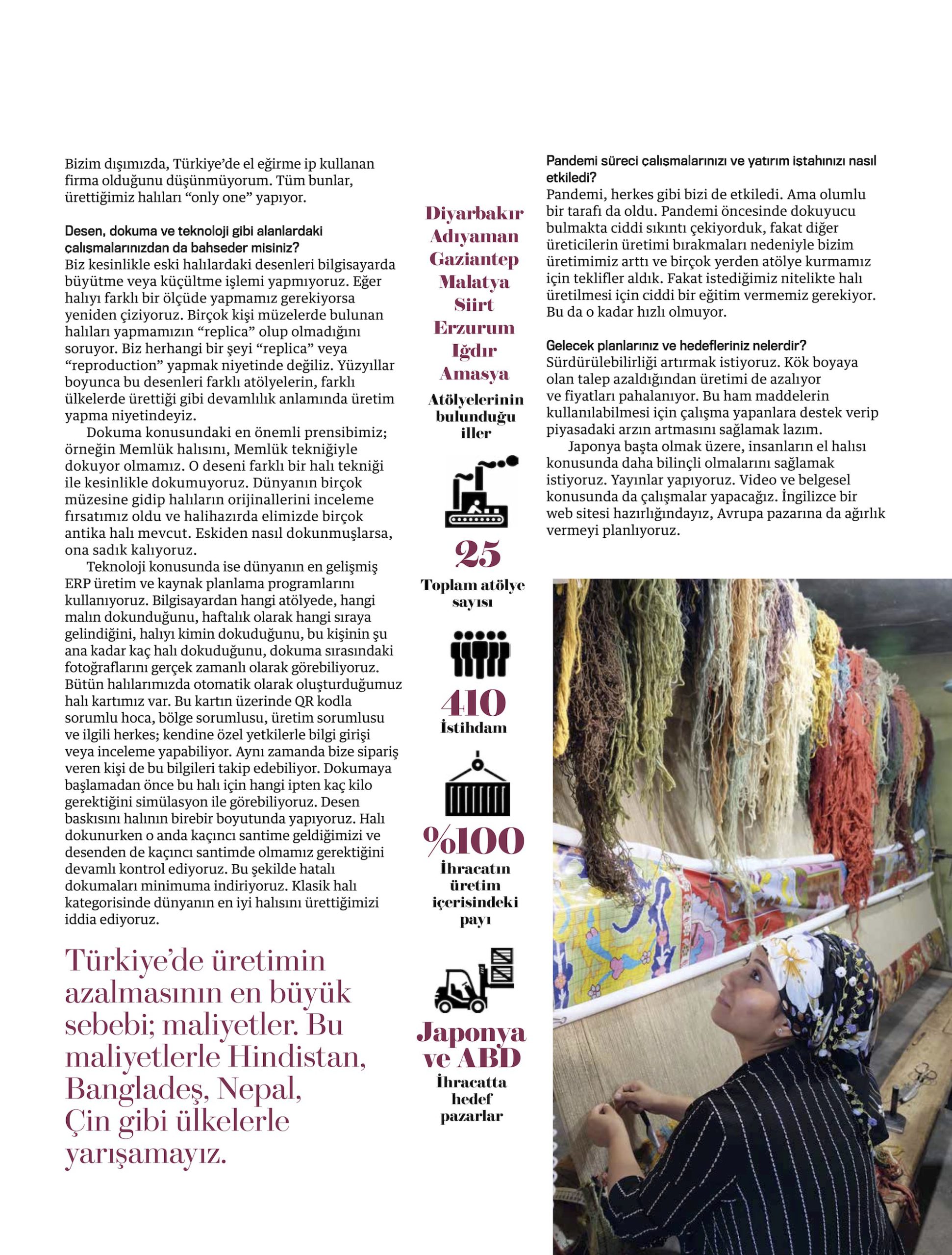 What is the secret of Kilim House's success?

We claim that we produce the carpet that will be the antique of tomorrow. We do not use synthetic dyes. All of our colors consist of a root or natural dyes. We offer a lifetime warranty on our colors. To give a small cost example; The cost of the root dye (Rubia tinctorium) we use for the red color is around 10 dollars per kilogram. One kilogram of Rubia tinctorium is required to dye one kilogram of thread, depending on the darkness of the color. We use six kilograms of yarn for one square meter of carpet, and the dyestuff cost of only the yarn of the carpet we will weave for one square meter is 60 dollars. The cost of the yarn itself and the cost of weaving and finishing are added to this figure. The price per square meter of a medium or even good carpet produced in India is around 70 dollars in total. (Only dye cost is nearly equal to the finished product of India). We use materials used in the 16th century, such as Chamomile, Dyer's Weed, Spurge, Pomegranate, Walnut Husk, and Henna, one by one and with a slightly wider range. We search all the resources related to textile dyeing in the world. We are dealing with the registration procedures for around 150 colors we use in Japan. We analyze the resistance of all colors to sunlight and washing. We do not use heavy metals in the mordanting process. We use hand-spun yarn, which is almost at the endpoint in Turkey. Apart from us, I don't think there is a company that uses hand-spun yarn in Turkey. All these make the carpets we produce "the only one".

Can you tell us about your work in areas such as pattern, weaving, and technology?

We certainly do not enlarge or reduce the patterns on old carpets on the computer. If we need to make the carpet a different size, we redraw it. Many people ask if it is a "replica" for us to make carpets found in museums. We do not intend to "replica" or "reproduce" anything. We intend to produce these patterns in the sense of continuity, as different workshops have been produced in different countries for centuries. Our most important principle in weaving; For example, we weave the Mamluk carpet with the Mamluk technique. We do not weave that pattern with a different carpet technique. We had the opportunity to visit many museums of the world and examine the originals of the carpets, and we already have many antiques. We stay true to how they used to be woven. In terms of technology, we use the world's most advanced ERP production and resource planning programs. From the computer, we can see in real-time in which workshop, which goods are woven, in which order is reached every week, who has weaved the carpet, how many carpets this person has woven so far, and photos of the weaving sequence. We have a carpet ID card that we create automatically in all our carpets. With the QR code on this card, the responsible teacher, the regional manager, the production manager, and everyone involved; can enter information or examine it on their own. At the same time, the customers who ordered from us can track this information. Before weaving, we can see with simulation how many kilos of which yarn are needed for this carpet. We do the pattern printing in the exact size of the carpet. While weaving the carpet, we are constantly checking which inch we have reached at that moment and at what inch we should be from the pattern. In this way, we minimize faulty weaving. We claim that we produce the best carpet in the world in the classic carpet category.

How has the pandemic process affected your work and investment appetite?

The pandemic has affected us like everyone else. But there was also a positive side. Before the pandemic, we had serious problems in finding weavers, but because other manufacturers stopped production, our production increased and we received offers to establish workshops from many places. However, we need to provide serious training to produce carpets of the quality we want. It's not that fast either.

What are your plans and goals?

We want to increase sustainability. As the demand for root dye decreases, its production also decreases and its prices become more expensive. To use these raw materials, it is necessary to support those who work and increase the supply in the market. We want to make people more conscious of handmade carpets, especially in Japan. We do broadcasts. We will also work on video and documentary. We are preparing an English website, and we plan to focus on the European market.